3D Images in the Air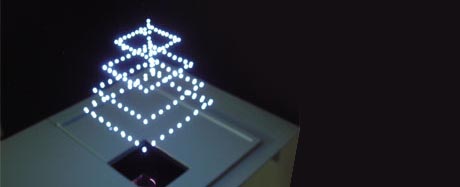 Voici le développement d'un nouveau traitement 3D grâce à un système de laser reproduisant à l'aide de points en suspension une image flottante et ceci sans le moindre écran.
"A collaboration of the Japanese National Institute of Advanced Industrial Science and Technology (AIST), Keio University and Burton Inc. has produced a device to display "real 3D images" consisting of dot arrays in empty space."
Une technologie qui ouvre de nouvelles perspectives pour la 3D et qui pourrait déployer de nouvelles possibilités si on l'utilise avec notre logiciel de réalité augmentée.
Posted by |BRAM| at 8. 03. 2006 20:05