"VARIABLE_ENVIRONMENT/"'S RESEARCH RESULT: Les "Rolling micro-functions"
Projet par Patrick Keller, Julien Nembrini, Christian Babski, Julien Ayer, Laurent Soldini
-
Le projet des Rolling microfunctions propose d'utiliser des robots miniatures pour créer un dispositif de micro-fonctionnalités modulaires, combinatoires et évolutives dans un lieu déterminé (ici, une grande table d'intérieur allongée). Ce projet, utopique quant à sa concrétisation appliquée dans un avenir proche, s'inspire en partie au niveau fonctionnel des sushis bars (« sushis on the go » où les barquettes à sushis passent devant les yeux du consommateur) et au niveau cinétique du jeu de billard (ou de curling !). Parmi les scénarios développés avec ces « micro-fonctions » de table, on trouve un espace de travail en équipe, un « sushis on the go », une grande table à dîner avec chandelier, un vase, un sous-plat, des luminaires (version de démonstration fonctionnelle), etc.
Ce dispositif robotique mobile se situe quelque-part entre une imprimante à fonctions (dot-matrix) et un dispositif autonome. Il reçoit des informations sur la configuration ou l'utilisation de l'espace autour de la table par le logiciel VTSCframekit (réalisé pour ce projet) et prend seul les décisions sur les configurations à activer.
Le projet, bien que moins développé que les quatre autres (il souffre en partie de la préexistence complète du robot et de son type de déplacement), adresse la question de la relation entre objet, espace et fonction en proposant une version dynamique, économique (économie d'espace) et évolutive de celle-ci. Le système peut ainsi osciller entre des configurations privées ou intimes et d'autres plutôt publiques. Il en va de même pour la spatialité que ces microfonctions induisent.

---------------------------------------------------------------------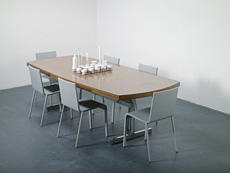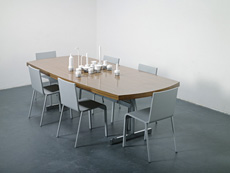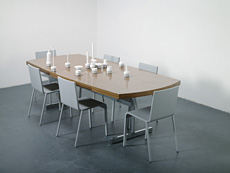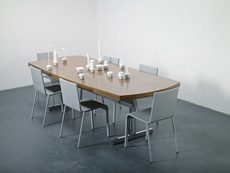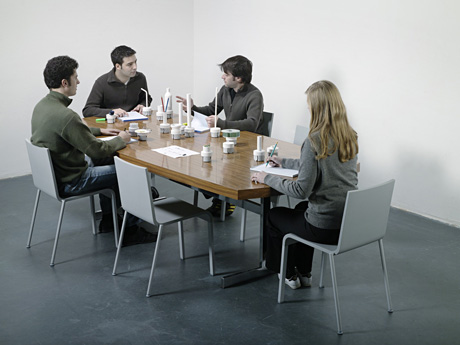 -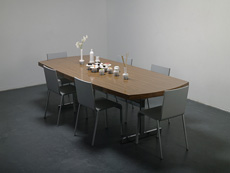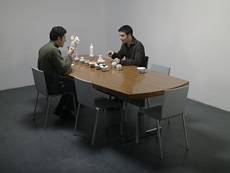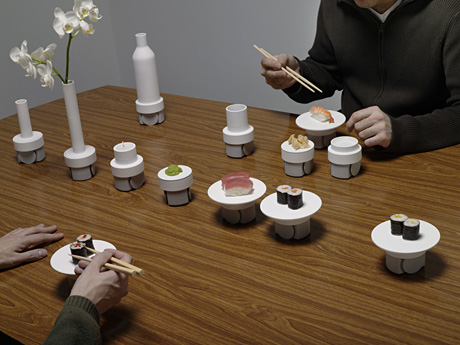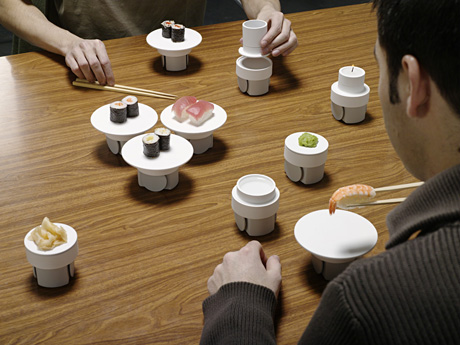 -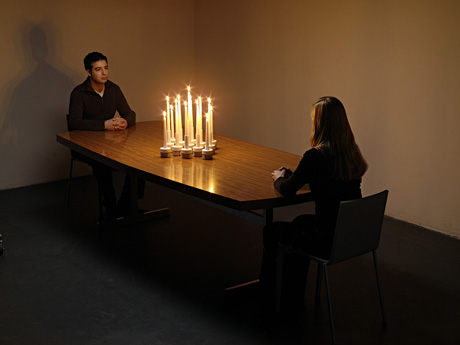 Photo: Milo Keller
Posted by patrick keller at 3. 07. 2007 18:00