Applications
ID-Shirt
L'idée générale de cette application est de fournir un maximum d'informations sur la personne, ceci grâce à un badge posé sur le vêtement qui fait office de signe de reconnaissance mais aussi de mémoire.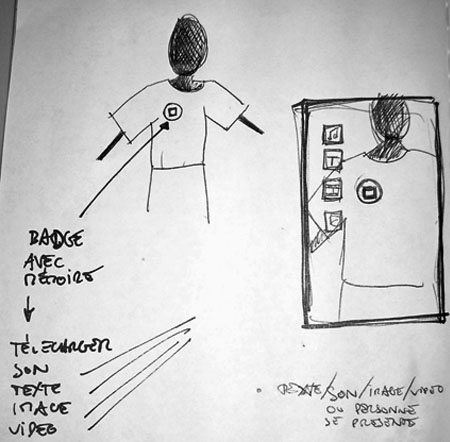 Dans cette mémoire sont stockées toutes les données nécessaires et qui peuvent être téléchargées par un système bluetooth/wifi sur le téléphone de l'utilisateur.
C'est donc un système qui permet de connaître un individu en la regardant avec son propre téléphone.
Dès que l'on vise le signe de la personne, un menu s'affiche avec différentes options. Une info globale, un texte plus précis, images, sons, vidéo etc. Toutes ces informations sont directement téléchargeables depuis le badge mémoire/signe.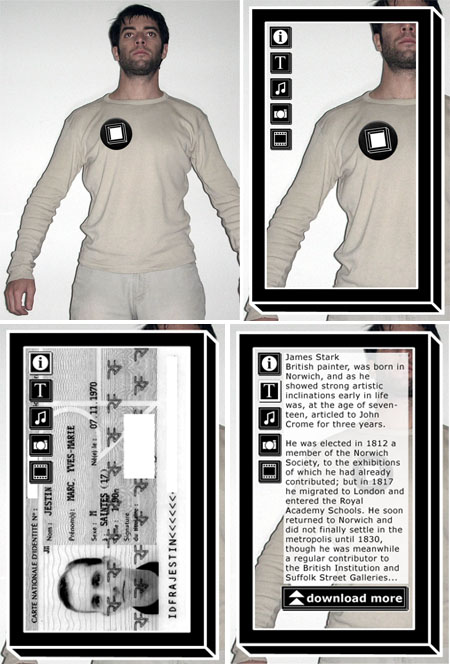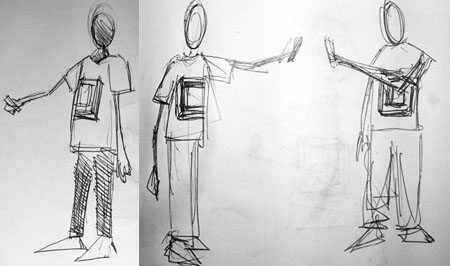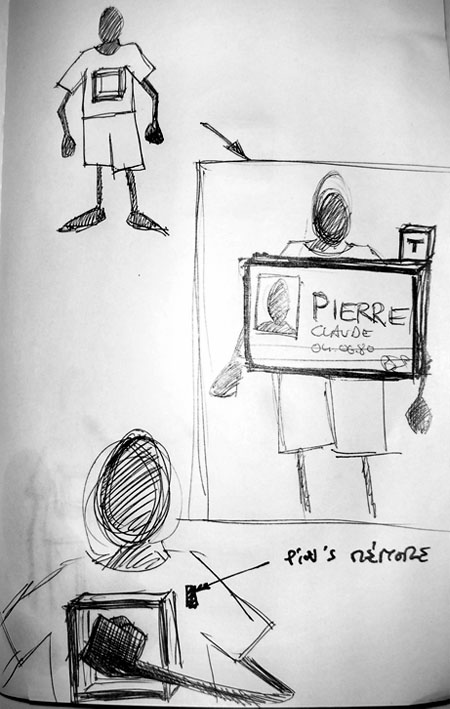 Censored-Shirt
Ici il s'agit d'une action unique, mais toujours en relation avec l'identité d'une personne.
Le signe permet simplement de « cacher » son identité à travers le téléphone.
C'est plus pour signaler que l'on ne désire pas donner d'information sur nous plutôt que de vraiment se rendre inconnu/invisible.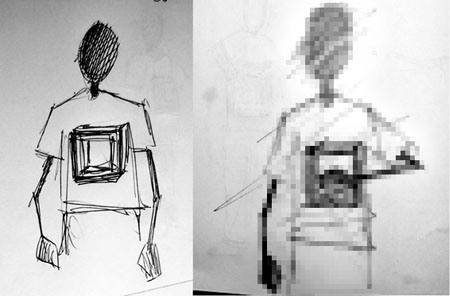 In relation to this application, check out the "on-off" AR video test.
TV-Shirt
Ici je reprends l'idée de la télécommande. Dans ce cas précis, le t-shirt sert à commander la télévision avec des actions simples comme passer à la chaîne suivante ou précédente, éteindre et allumer.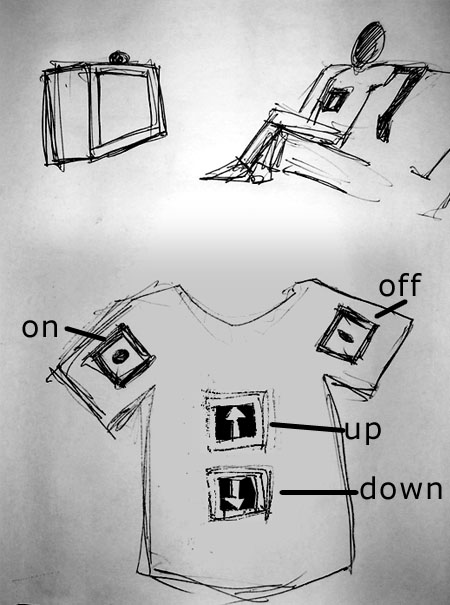 In relation to this application, check out the "on-off" AR video test.
POST-IT
Le post-it servirait lui à laisser une forme de message, mais autre ou en plus de l'écrit.
Selon la forme du message (texte, vidéo, son, image) que l'on veut faire, on dessine le signe sur le post-it, on enregistre notre message dans une source de stockage (une boîte post-it) et le message serai disponible pour la personne concernée. En fonction du signe, le téléphone saura si le document à lire est une vidéo, une image ou autre chose.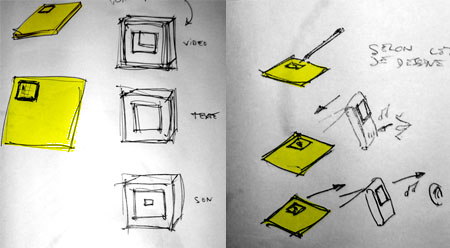 Posted by |BRAM| at 1. 06. 2006 0:31