Hormonorium vs. reduced oxygen content in the house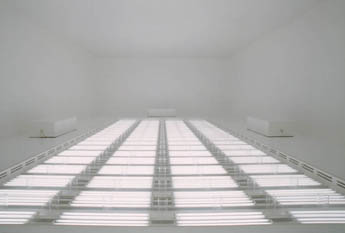 -
In 2002 for the Venice Biennial of Architecture, Philippe Rahm (see Workshop#3) produced the Hormonorium with his former partner Jean-Gilles Décosterd. The space was about a climatic and light displacement, bringing high moutain conditions (10'000 lux glacier bright light and reduced quantity of oxygen) into the chocking atmosphere of the laguna.


-
I just saw the previous images on BLDG about a functional training environment with the following comment.
It doesn't tool so long to see Rahm's architectural fiction come into "everyday"'s life (in a very functional and applied way unfortunately).
Posted by patrick keller at 28. 02. 2007 11:45