Revisiting the Intelligent House - Art Center Pasadena & Vitra Design Museum exhibition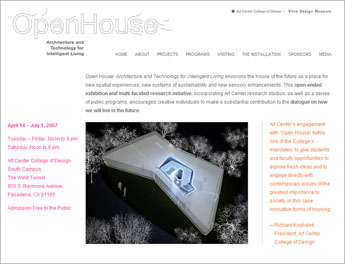 -
Vitra design Museum and the Art Center have organised a joint exhibition, Open House: Architecture and Technology for Intelligent Living, around the retro-futuristic idea of the "intelligent house" (formerly known as "house automation" and now as "smart house" or "smart environment").
Several projects have been commisioned to explore this question including one by Ben Hooker and Fiona Kitchen. Ben Hooker was our guest at ECAL during Workshop#2: Designing for mish-mash around the real-virtual environment hybridation problematic.

Posted by patrick keller at 27. 04. 2007 18:32